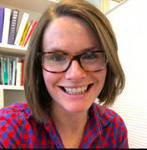 Updated by K.C. Kourtz
What is BPSLearns? 
BPSLearns is a Learning Management System (LMS) that allows professional development providers in the Boston Public Schools to put PD learning sessions online for educators. BPSLearns can be found at learn.mybps.org and any BPS employee can login with BPS ID# and password (similar to accessing Aspen or other BPS systems). 
You might be asked to use BPSLearns by an administrator, or used for a professional development opportunity listed in TeachPoint includes an online component that uses BPSLearns. 
How is BPSLearns Organized?
In BPSLearns, you may need to find your PD "course" or module. Do this by scrolling halfway down the front page to "My Courses" to see which course you are enrolled in.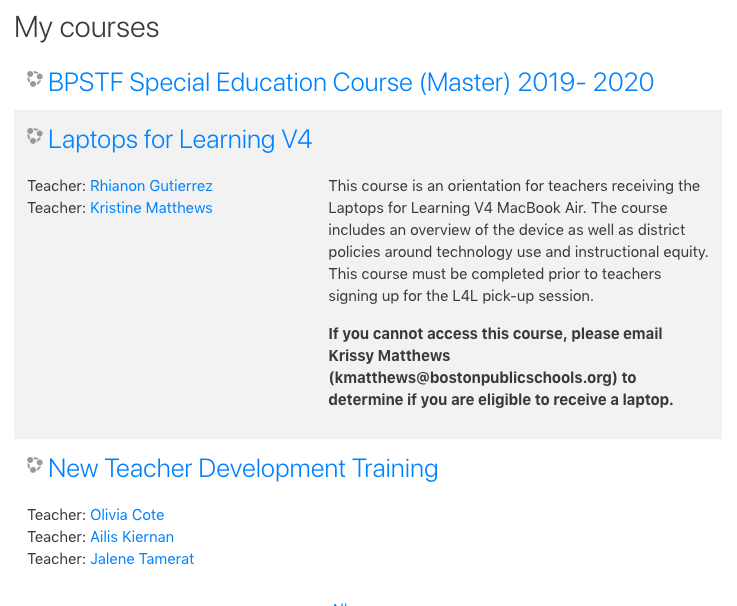 If  you do not see your course, please contact your course leader.
Okay, I'm enrolled. Now what?
What you can do within the course depends on what it includes. There are many types of activities. Listed below are few common ones:
Completing tasks
You should see a list of resources within your course, perhaps with topic headers. Under each topic, you will see a list of "clickable" links that might look like this:
The orange links above are hyperlinks for a folder, a separate page within BPSLearns, a forum, and weblink. The checkboxes next to each link indicate whether you have completed or viewed the task/resource. Be sure to engage with the resources and remember to track your progress via gradebook or checkboxes.
Checking your Progress
Some courses will include grades and feedback. If so, you can access this on the right hand side of your course under "administration." Click on "grades" to see grade.
If your course does not have grades, progress is tracked through checkboxes. An unchecked box means you haven't met the completion requirements set by the course leader, and your course progress might stop. PRO TIP: If you can't progress to the next module, please ensure you have completed all of your module's assignments and checked all of the check boxes in your current module.
Engaging with Forums
Forums are a great way to interact with colleagues online, sharing and reflecting on your practice on your own time. If there are forums in your online course, you will see an icon that might look something like this:
To enter forum, click orange link. You should see a thread of discussion posts from other participants: or, if no one has engaged yet, you'll see a "new thread" button. To engage in the forum, simply reply to someone else's post or start your own thread, if applicable!
There are a few good rules of thumb for participating in online forums. Your leader may have provided his or her own guidelines, but in general, we suggest keeping the following tips in mind when interacting in BPSLearns forums:
Keep responses short! About 10-15 lines is a good guideline. 
Add media! Click on the icons pictured here to add media to your post. You can also link to Google documents using the hyperlink icon or add document attachments to posts.

End with invitation. Finish your post with a question, an invitation for engagement, or a request. This will catch readers' attention and draw them into your thread!
Keep in mind that in online spaces, social cues are hard to detect. Therefore please formulate interactions that are kind but also critically constructive to promote dialogue.
Engaging with Content
Your leader may have you engage in different ways. S/he may include folders full of resources for you to browse, or may include quizzes. Refer to the class leader for instructions on how to navigate your course. Ideally, this information will be provided within the BPSLearns course itself but if it isn't, please ensure that you are provided with any necessary clarification regarding course.
Uploading Content
To upload your content to a folder or database, or in response to an assignment in BPSLearns, you will need to decide where you're uploading your content from -- your computer? Your Google Drive? Somewhere else?
Whenever you are uploading content to BPSLearns, you will see a screen that looks like the one to the right:
Click on page with a plus symbol in the upper left corner to choose documents from multiple sources. Then, you'll be prompted to add "recent files," "upload a file," "access your Google Drive," and more. You can pick from among these options, but most people choose to either "upload a file" from their computer or find a file in Google Drive. If you choose Google Drive, you will need to click on "Login" to login to your BPS Google Account.