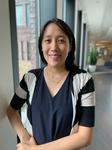 Updated by Sarah Chang
What Digital Whiteboard Tools should I use?
The district recommended digital whiteboard tools are linked in Clever under the "Collaboration, Creation, & Student Voice" section. These tools are Aww App, Google Drawing, Google Jamboard and Ziteboard.

TIP: The free version can be used for synchronous learning when the teacher wants to demo during a screen share, when the teacher is tutoring individuals or small groups, or when the teacher wants to monitor student work on a collective document. Please note with the free version, you can't save, but you can download the board as a PDF with a watermark.
Google Drawings is a free, web-based diagramming software that is part of the G Suite family and is available to you to use along with the district's other Google tools. You can add Google Drawings as assignments in Google Classrooms (by inserting the link or adding from your Drive) and add collaborators and viewers as you would other Google products. It allows users to collaborate and work together in real time to create flowcharts, organizational charts, website wireframes, mind maps, concept maps, and other types of diagrams.
TIP: Google Drawings can be used to create drag and drop activities for students. Watch a tutorial video on using Google Drawing for creating drag and drop activities:
video
|
slidedeck
To use Google Drawings as a digital whiteboard and to "draw freehand", go to Insert > Line > Scribble.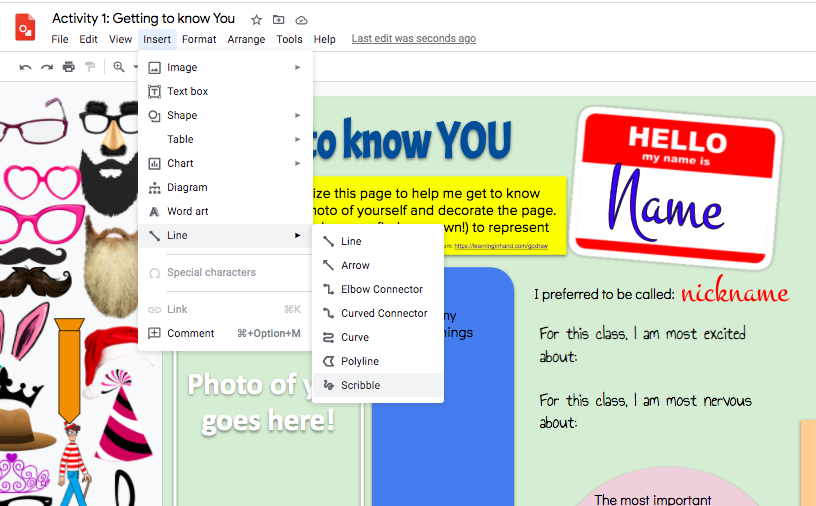 You can also view collaborator changes by going to File > Version history > See version history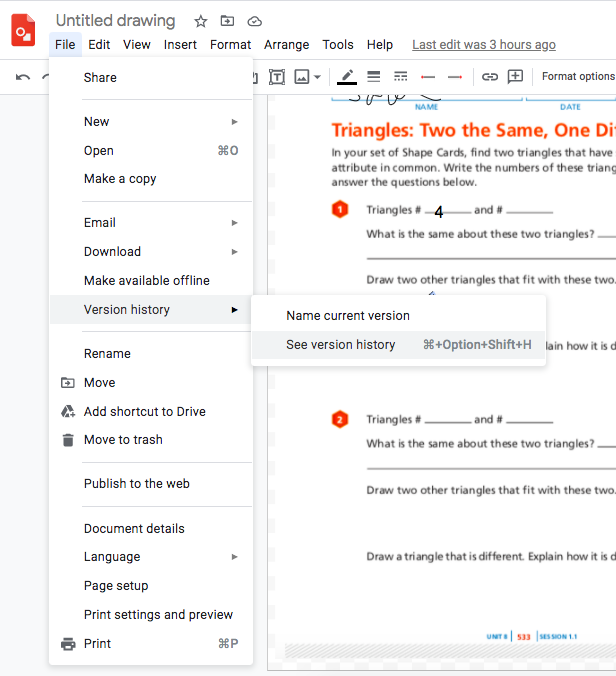 TIP: Jamboard has a maximum of 20 frames and 50 collaborators at one time. The post-it note feature also has a word limit.
Ziteboard is a freemium lightweight, web-based whiteboard with real-time collaboration shareable board management. It runs on any device (laptop, tablet, smartphone, Wacom, Genius tablet, Chromebook) with any digitizer (Windows Surface Book with pen, Wacom Intuos with Stylus, Bamboo, Ipad Pro with apple pencil, Samsung Galaxy with S pen.)