How to Factory Reset a BPS Chromebook
How to Factory Reset a BPS Chromebook
Updated by Kate Smith-Ziegler
Depending on the Chromebook manufacturer of the device you are resetting, you will see different screens. The steps for factorty reset are the same, but the visuals on screen may look different.
Hold down two keys: ESC and "Circle Arrow" and at the same time, tap the POWER button:

You will see one of the screens below depending on your device. Hold Down CTRL and tap the D key to begin Developer Mode, then hit ENTER to confirm when prompted.
Screen from an HP Chromebook: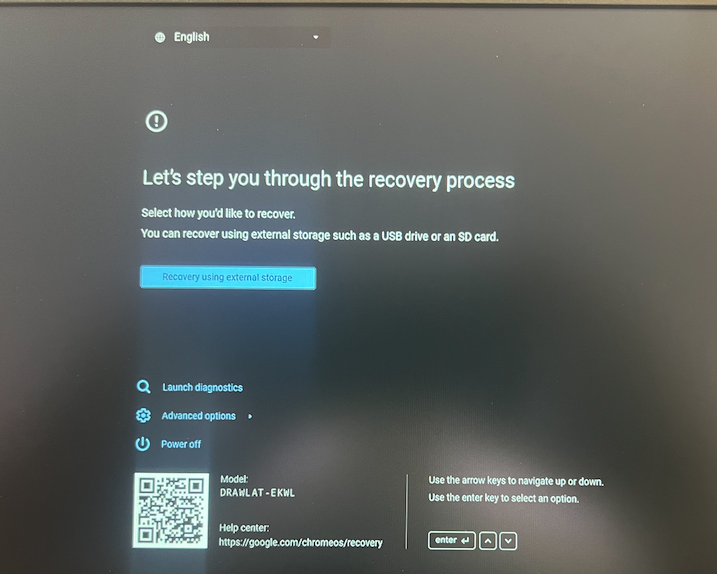 Screen from an Acer Chromebook: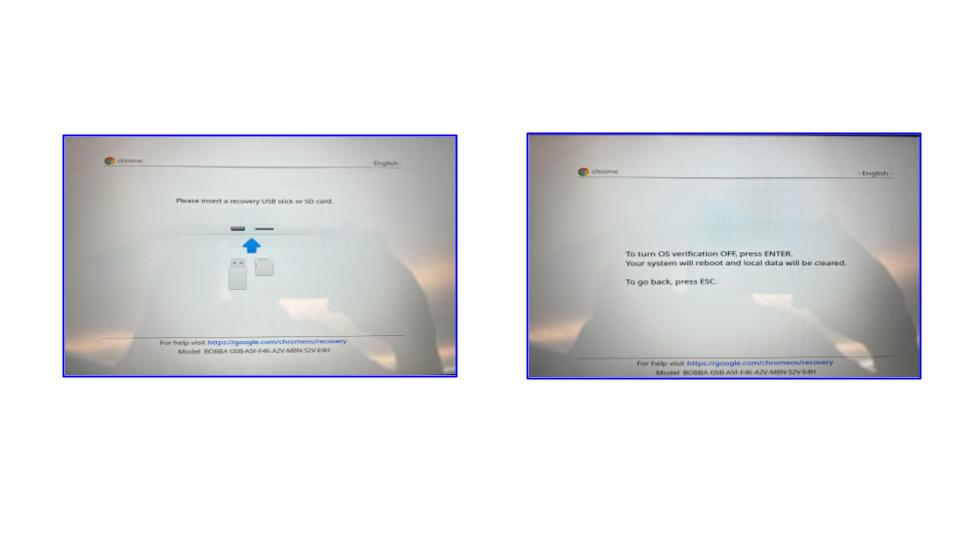 An HP will say, "You are attempting to enable developer mode". An Acer Chromebook will display a red exclamation point or a message about entering Developer Mode. In both cases, Press ENTER.
Screen from an HP Chromebook: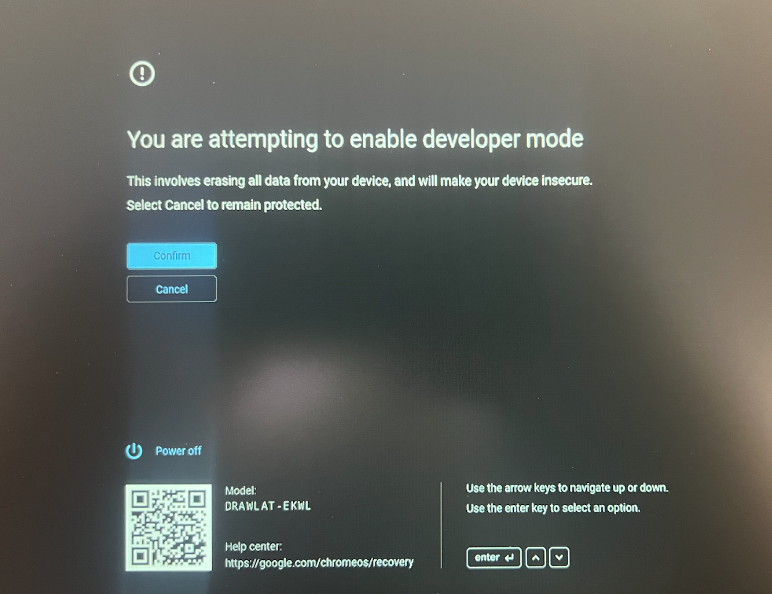 Screen from an Acer Chromebook: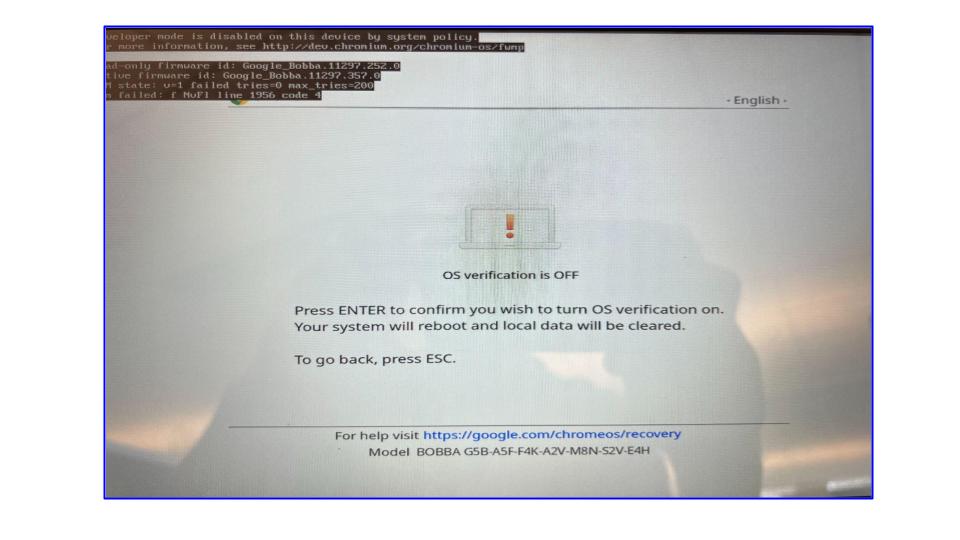 Depending on your device:

On an HP, Click "Confirm" to returning to secure mode.
On an Acer, you will see a message saying that "Developer Mode is disabled..." and the device will reboot itself back into Verified Mode.

Click Get Started (both HP and Acer are the same).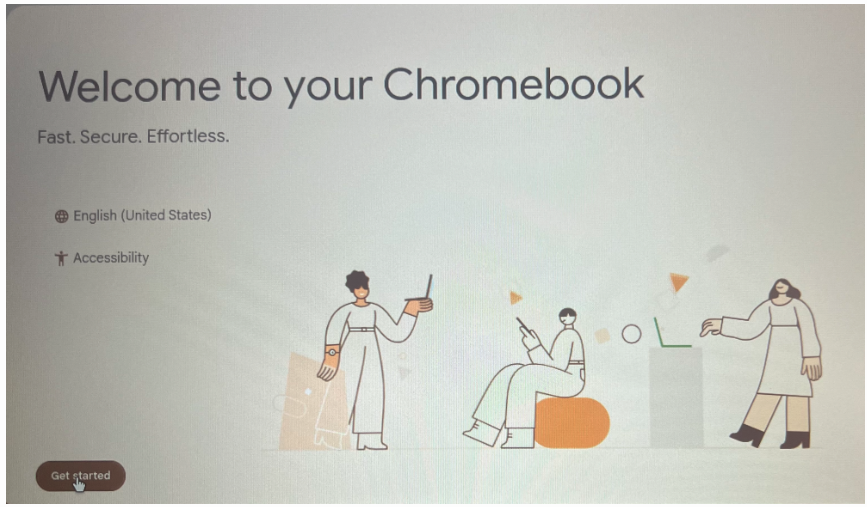 Connect to Network: Choose BpsStaff or Student to connect to Enterprise Enrollment. (Your device may not require all of the settings included below):
SSID: BpsStaff (or BpsStudent)
Security: 802.1x EAP (skip, if unable to edit)
EAP method: PEAP
Phase 2 Authentication: MSCHAPV2 (choose None, if not found)
Certificate: Do Not Check
Identity: Enter your BPS employee (or student ID)
Anonymous Identity: leave blank
Enter password: Enter your BPS password
Choose "Connect". See example below: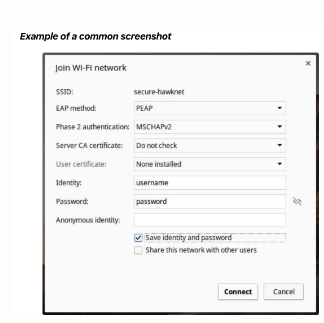 Click "Done" when Enterprise enrollment is complete.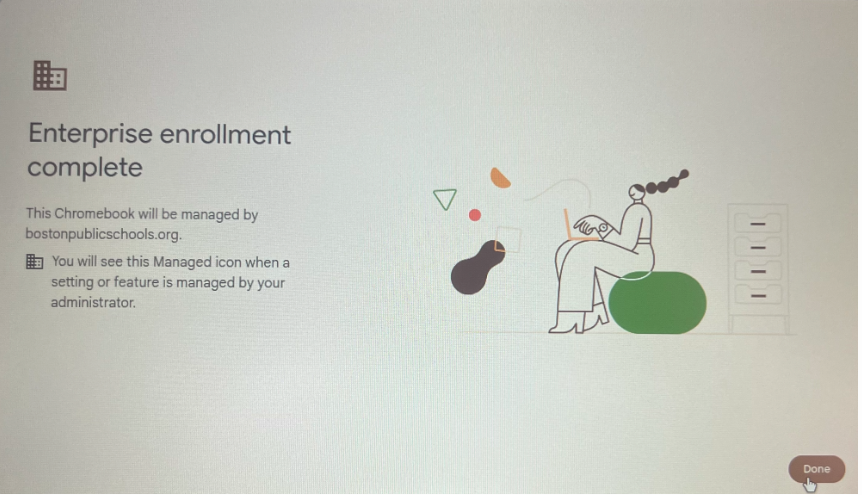 Log in with a BPS student or staff account:

Be sure to type the full email out including @bostonk12.org (student) or @bostonpublicschools.org (staff)

It should display a "Successfully enrolled." message. If it does not then go back and start with step 1 again.
The Chromebook should connect to the ChromeWLAN wireless network after login.