How to access the BPS Lending Library (myTurn)
How to access the BPS Lending Library (myTurn)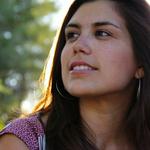 Updated by Rhianon Gutierrez
What is the BPS Lending Library and who has access?
The BPS Lending Library is a collection of physical items available for loan by BPS teachers and school leaders. For SY 2022-23, the items consist of physical materials used in the arts, STEM, computer science, and humanities. The library is centrally managed by members of the BPS district office. The catalog of physical materials can be found on myTurn, BPS's lending library software at https://bostonpublicschools.myturn.com.
All BPS teachers and staff will have access to myTurn by logging in with their BPS Gmail.
How do I login to myturn?
Go to Clever: www.bostonpublicschools.org/backpack. Be sure to sign in using your BPS Gmail and password.
Look for the BPS Lending Library (myTurn) icon under Staff Links. Click to sign in.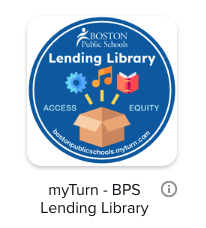 Please note: This is an app for staff only. Students cannot login to myTurn to check out items.
What devices can I use to access myTurn?
myTurn is accessible on any device with a browser.
What should I know about using myTurn?
Do I need to sign the BPS Lending Library User Agreement?

Yes; all users have to sign the user agreement when first logging in to myTurn before you check out any equipment. All users are expected to treat the equipment with care and return it in the same condition it was received.
How do I borrow items?

Browse our inventory for items. When you find an item you would like to borrow, click on the item to check the availability calendar, then click the blue "

Reserve

" button to schedule a reservation.

Select a start date. End date will be selected automatically (most loans are 28 days; however, you can select an earlier date if you prefer a shorter loan period). Click

Add Items

to select more items or

Cart

to confirm reservation.

In your cart, click

Submit Reservation

to request reservation. You will receive a confirmation email once your reservation has been approved. Items may be picked up on or near the reservation start date.
What kind of equipment is in myTurn?

Equipment is added on a rolling basis by participating Central Office departments. To see a full list, sign in to myTurn using your BPS email to

browse the full inventory

.
Do I need to complete PD before checking out equipment?

It depends on the item. Check your equipment for its requirements. Staff will be asked to provide proof of the completed professional development before borrowing certain equipment where appropriate.
What is your return policy?

Each piece of equipment has its own return date; all users are expected to honor the equipment return date. Use the accompanying equipment checklist (if applicable) to ensure all materials are accounted for when receiving and returning equipment.

Staff are not allowed to transfer equipment to another teacher without communicating with the appropriate Central Office Department Lead.

* 3 Strikes Policy → after a third late return, users may lose access and borrowing for the remainder of the school year.
Can another staff member in my school building borrow the equipment after me?

If a staff member in your building is using the equipment after you, the new staff member is required to sign out the equipment on myTurn (if available) & attend all required PD. You must then notify the appropriate Central Office Department Lead that you are passing on the equipment and take a picture of the equipment to send with that email. If the equipment is not available in myTurn, it is already reserved by someone else and must be returned by the return date.
What do I do if the equipment I borrowed is lost, stolen, or damaged?

Users must report Lost, Stolen, Damaged, or Broken equipment immediately

using this form

with details including condition and photo. We will contact you with further instructions and next steps.
Who can I contact if I have additional questions?
myturn Support: support.myturn.com/hc/en-us
Central Office Department Leads for myTurn