How to Assign Locker Numbers to One or More Students
How to Assign Locker Numbers to One or More Students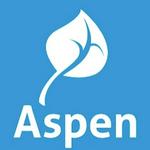 Updated by Aspen Support
A. Assigning a Locker ID to an Individual Student
1. To assign a locker to an individual student, in School View and click School
2. Go to the Locker side-tab and click Options
3. Click Add
4. Enter the locker information and save.
5. Then go to the Student-tab and click on the student that you want to assign a locker.
6. Click on the magnifying glass to choose the Locker number. Click Save.
B. Assigning Locker IDs to a group Students
7. To assign locker IDs to a group of students at one, click Student
8. Click Options
9. Click Student Locker Import
10. Choose the file to import
File criteria: CSV file with 2 columns: Student IDs (Column A) ; Locker IDs (Column B).
Note: the numbers below were made up for the purpose of this doc.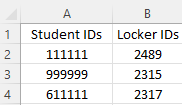 11. Click Run. The school locker IDs will be assigned to students.