Polycom Studio Camera Setup
Polycom Studio Camera Setup
Updated by Brian Vitarisi

Features of the Polycom Studio Camera
Camera has a 120 degree ultra-wide lens 
Device is portable and can be set up in more than one location throughout the day
Compatible with Zoom and Google Meet
Change the camera angle by movement/audio or the push of a button on the Remote Control
Preset Camera angles on the Remote Control
Speaker tracking/camera angle (light above the camera)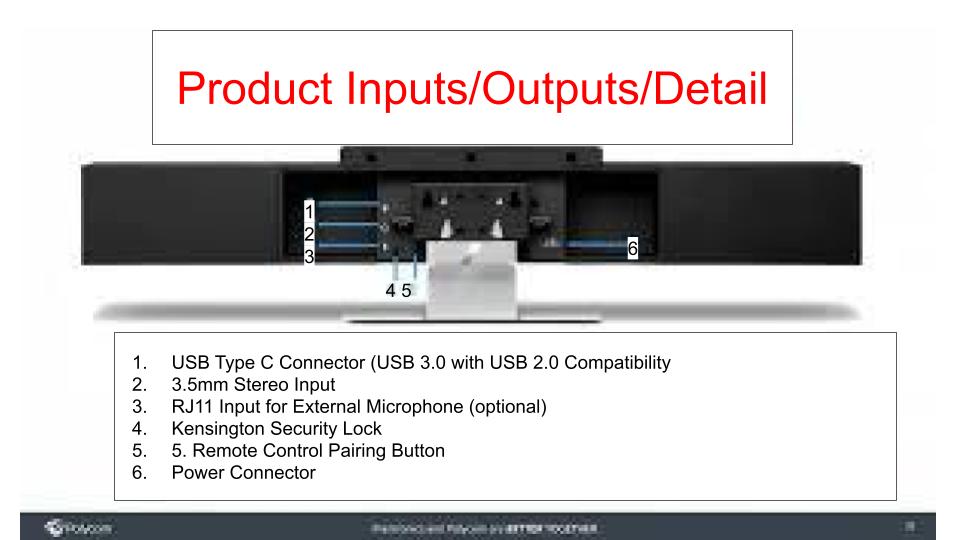 Setup Instructions
Connect the Polycom Studio Camera to MacBook or Chromebook via USB cord.
Plug Polycom Studio Camera power cord in an electrical outlet (Polycom Camera light above the camera illuminates).
Connect to Zoom and begin a meeting.
From Zoom window, click on the ^ next to the Stop Video from Zoom toolbar; Choose Polycom Studio Camera from "Select a Camera."
Placement
Determine the placement of the camera that is best for your classroom situation
Remember, your Polycom Studio Camera will need to be connected to a computer
How to Pair the Polycom Studio Remote
Turn the Polycom Studio camera bar upside down.
Locate the bluetooth pairing button and press the button with your finger until you hear a chime. The lights on the top of the camera bar will pulse blue to indicate that it is in pairing mode.
Long-press the Mute button on the remote control until you hear a notification chime.
The lights will stay solid blue for three seconds and the remote is now paired with the camera/speaker bar.
Before pairing the remote, check to make sure the remote has working batteries by removing the back cover.
Polycom Studio Camera Remote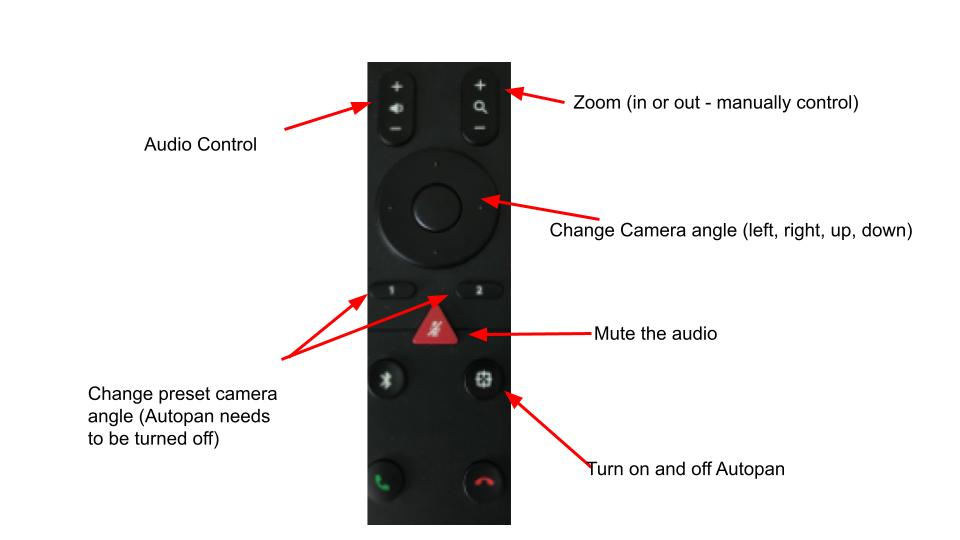 The Polycom Studio Camera has built-in Audio and Video Settings.
The red icon button (triangle) will mute you in Zoom.
The button with the square shape will turn on and off auto-tracking (camera following the speaker/movement).
When tracking is turned off (button with square shape), you will be able to use the Up, Down, Left, Right arrows to control the camera manually.
With tracking off, you are able to manually zoom in or out (button in the upper right corner).
Preset Buttons (1 & 2)
Manually move the camera to your desired view/camera angle and hold down the 1 or 2 to set your camera angle.
Toggle between the 1 or 2 button to change the view/camera angle.
Reset/Reactivate Auto-Tracking, press the button on the bottom right of the remote.
Recommendation: Turn off auto-tracking if device is facing the students in the classroom.
Frequently Asked Questions
How can I manually change the camera angle?

Turn off the auto-pan by clicking on the button with the square imprint. Use the button in the upper right corner to zoom in or out. Use the button in the middle to move the camera angle, right, left, up, or down.
How can I adjust the volume of the speaker?

Use the button in the upper left hand corner of the remote control to adjust (increase or decrease) the volume.
Why won't the remote control work?

You may need to pair (re-pair) the remote control with the Polycom Camera. Follow the steps/procedure "How to Pair Polycom Studio Remote" found above.