How to Publish Reports to the Parent and Student Portal
How to Publish Reports to the Parent and Student Portal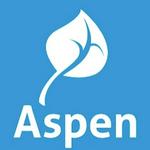 Updated by Aspen Support
This process should only be used with the consent of the school principal/headmaster. Publishing a report will immediately email the parents and make the report available to them on the portal. It is imperative the schools run the reports normally to verify the accuracy before publishing to the portal.
1. Navigate to the report that you wish to publish (i.e. report card, progress warning notice, absence letter, student schedule, etc.)
2. In the report options, set the desired settings and run the report normally.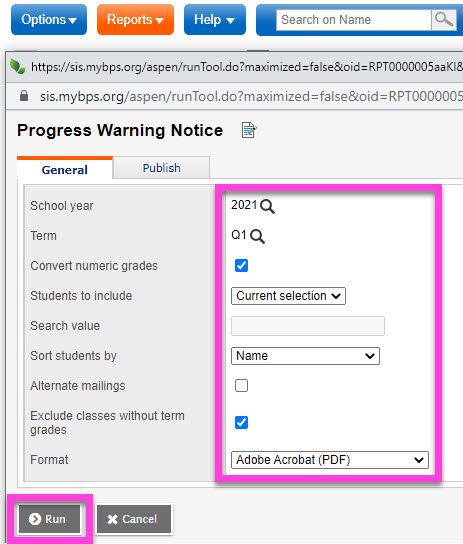 3. Check for accuracy in the report.
4. Navigate back to the report and set the desired options. Before clicking
"Run", click on the Publish tab at the top. (Available only to Principals/Head of Schools and Grading Managers)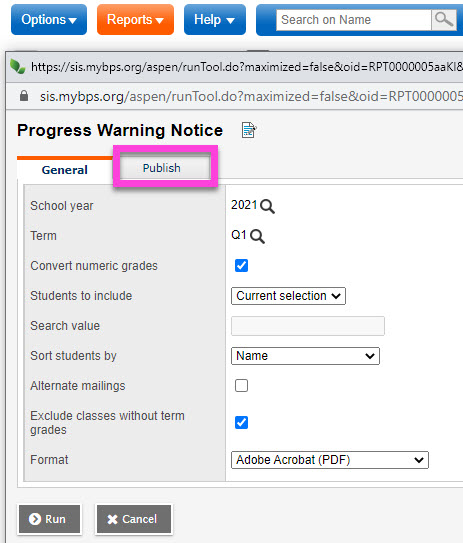 5. Click the first drop-down and select Publish. Selecting Preview is another
way to test the report settings and will mimic the publishing ability without
actually emailing and displaying the report to parents.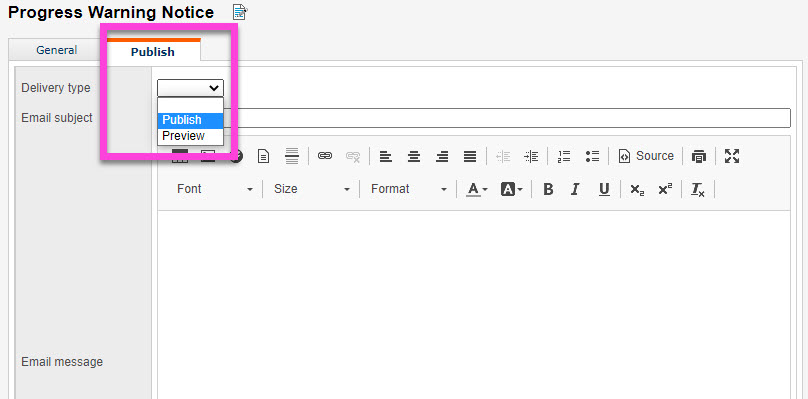 6. Edit the email subject and body with a personal message. It is important
that you include a note to parents that they need to login to the parent
portal to view their child's report card in the "Published Reports" box on
the home page. The report is not included as an attachment to the email.

7. Choose the start and end date for the report visibility. It is good practice to
choose an end-date when the information will be updated. For example,
report cards should expire before you publish the next report card. The
"cleanup" date is simply when the report will be removed from the servers
and does not need to be adjusted past the end-date.

8. Click Run