How to Import Locker Number and Lock Combinations
How to Import Locker Number and Lock Combinations
How to Import Locker Numbers and Lock Combination Codes
This article will go over the steps to importing locker numbers, locker locations, lock combinations and lock serial numbers into Aspen. You need a file with this information in the specified order.
A file is often provided to school administrators or school maintenance with most of the needed information already in CSV format.
Roles with Access to Import Locker Information
Only specific school users have access to erform the import. The roles with access to import locker information are:
Add On - School - Locker Access
School - Advanced Student Info (R/W)
School - Asst Principal/Headmaster
School - Principal/Headmaster
Import file
The import file can be a .csv (comma separated file) or a .txt (text file). The file should have a header so that the import can be run if there is missing data. The import file needs to have the data below in the order listed below.
Import fields
School Local ID
Locker Number
Locker Combination
Locker Location (First Floor, East Wing, etc.)
Lock Serial number
Example file
school, lockernum,combo,location,serial (the header row)
1040,H1234,21-11-1234,3rd floor, SN0001-001-0000
1040,H1235,21-11-1234,3rd floor, (missing serial number)
1040,H1236,21-11-1234,3rd floor, SN0001-001-0000
Not all data needs to be included in the import file. If you do not have the Lock Serial Number in the file, the field will be skipped.
Importing the data
From School view, click on the School top tab
Click on the Locker side tab
Click on the Options menu
Select Imports
Select the School Locker Import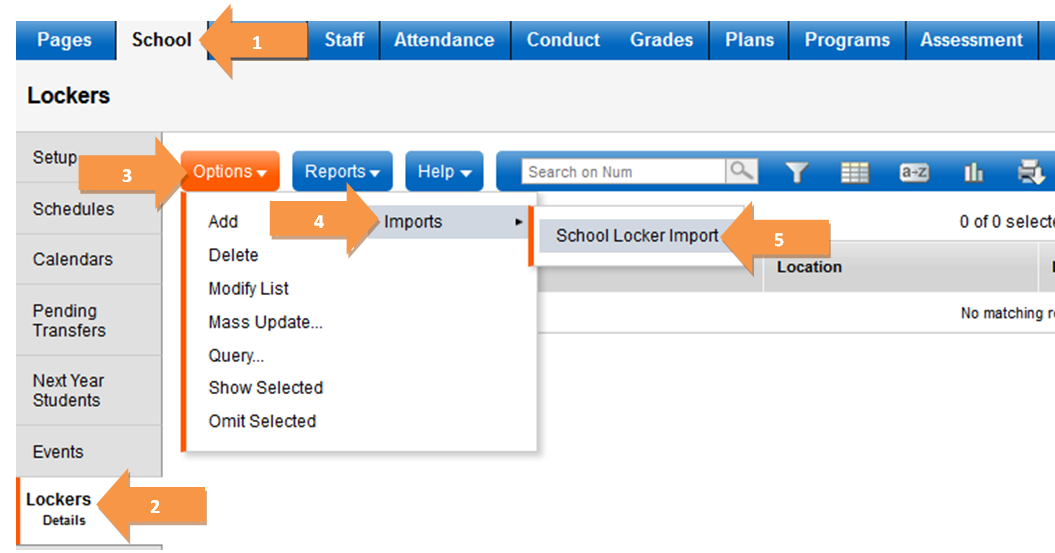 Assigning Locker IDs to Students
After importing the school lockers, you want to use the following HelpDoc to assign them to students.