Sample Workflow for Distributing Student Chromebooks
Sample Workflow for Distributing Student Chromebooks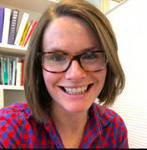 Updated by K.C. Kourtz
1. Record inventory: note student name, ID, and asset tag to input in One2One.
Note: Asset tags are 6 digit codes on devices. If you can't find an asset tag, you can record the serial number.
Teachers

Record the below info into a spreadsheet to share with your Tech Coordinator to record in One2One.

1. Student ID
2. Student Name
3. New Device Asset Tag
Tech Coordinators

1. Login to

One2One

.

2. Search for the Student ID.

- Has the student ever had a device before? If not, they can get a new device (if available).

3. Click the green Quick Assign button.

- Enter the asset tag.

- You may need to click "Transfer device from your building collections." Choose "Yes" to transfer the device to the student.

- If the device is assigned to another student, double check that the asset tag on the device is correct; if so, transfer to the new student.
2. Turn on the Chromebook and search for WiFi.
If ChromeWLAN is visible, go to Step 3.
If ChromeWLAN is NOT visible, you will likely need to run an update (see steps below). Note C720 and C740 Chromebooks no longer are in life-cycle and will not update. Please recycle these devices.
To run an update, connect to another network option (guest WiFi network). Please reach out to your school administrator for the password.
Have student log in.
Click the bottom right hand corner of the Chromebook screen where it shows the time, battery life, and wifi.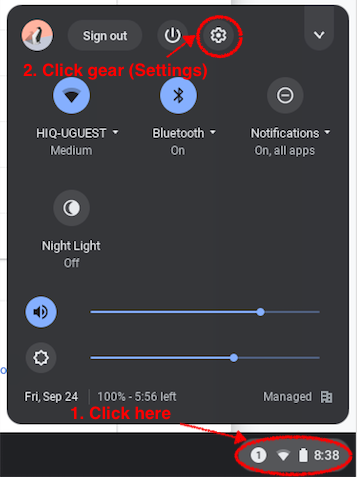 Click on the gear (Settings).
On the left hand navigation bar of the window that pops up, go down to the bottom and click 'About Chrome OS' (wait to load).
If the Chromebook does not begin to auto update, click 'Check for Updates'. You want to update to Version 90.0.4430 or higher.
After updating, click to Restart the Computer. After restarting, the Chromebook should now connect to ChromeWLAN.
3. Have the student log in to the Chromebook.
If password is working, you should be all set!
If password is not working, teachers, Tech Coordinators, or students can reset passwords. Please see instructions below.
Teachers and Tech Coordinators Change Passwords
Students Change Passwords
Password resets are recommended for Grades 4 and above.